Details
Representatives of correctional officers at the state and federal levels joined together during this 36th annual National Correctional Officers and Employees Week to honor the professionalism, dedication and courage exhibited daily by the men and women working in West Virginia correctional facilities.
"Correctional officers and employees face grave danger daily, but the current pandemic has brought unexpected and unprecedented risks that they are handling bravely, with professionalism," said Dan Doyle, National Vice President of the American Federation of Government Employees.
Elaine Harris, international representative for the Communications Workers of America, which represents officers and employees within the state correctional system, noted, "In addition to working to preserve public safety in the traditional sense, these officers must also be concerned with carrying COVID-19 home to their loved ones and communities. It's a lot to ask."
Details
We are inviting the press and public to join us via Facebook Live at noon on Tuesday, April 28, as we honor the 22 workers lost on the job in 2019.
"While we can't gather in person as we have in the past, the West Virginia AFL-CIO will hold the 32nd annual Workers Memorial ceremony live on our Facebook page," West Virginia AFL-CIO President Josh Sword said. "This pandemic has shone a much-needed spotlight on the tremendous risk those in essential professions are facing and the need for stronger worker protections. But the sad truth is so many in the workforce have always faced life-threatening situations."
On April 28, unions of the AFL-CIO throughout the country will observe Workers Memorial Day to remember those who have suffered and died on the job, and to call for action to make workplaces safe.
"We will continue to work tirelessly in hopes that one day no one is risking their life to make a living," Sword said. "And until every workplace is 100 percent safe, we should take time to honor and remember those who were injured or lost."
WHAT: 32nd Annual Workers Memorial Ceremony
WHEN: Noon, Tuesday, April 28, 2020
Details
The West Virginia AFL-CIO has rescinded its endorsement of Justice John Hutchison for a seat on the West Virginia Supreme Court of Appeals.
Following the release of the state Supreme Court's ruling upholding the so-called "Right to Work" law, which was created solely to undermine and weaken unions, and Justice Hutchison's concurring opinion, the WV AFL-CIO Executive Board and its Committee on Political Education's executive committee held meetings today and unanimously voted to withdraw the endorsement.
"Justice Hutchison approached our organization and met with many members, seeking our endorsement of his candidacy and our support," WV AFL-CIO President Josh Sword noted. "Despite his statements both to us and in his concurring opinion that he values the work of unions, his vote to concur with the politically motivated decision in support of the state's 'Right to Work' law made clear to us that he has put the interests of out-of-state corporations over the interests of West Virginia working families.
"The leaders of the West Virginia AFL-CIO and its affiliates can in no way support such a candidate."
Details
CHARLESTON -- The West Virginia AFL-CIO has endorsed Isaac Sponaugle to be selected in the May Primary Election to serve as West Virginia Attorney General.
"Isaac Sponaugle has a proven track record of vigorously fighting to protect and support working families," West Virginia AFL-CIO President Josh Sword said. "In the eight years he's served in the House of Delegates, Isaac has never waivered in his dedication to ensuring West Virginians are provided a safe work place, fair wages and affordable health care – in fact he has a perfect voting record in the eyes of the West Virginia AFL-CIO.
"I am confident he will bring those values to the Attorney General's Office."
Details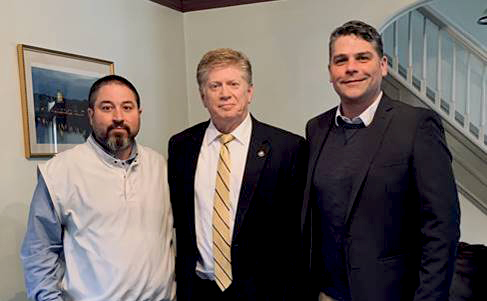 bobbeachCHARLESTON -- The West Virginia AFL-CIO has unanimously endorsed Bob Beach to be selected in the May Primary Election to serve as West Virginia Agriculture Commissioner.
"Throughout his long career in public service, Bob Beach has been a consistent advocate for West Virginia working families, and we are proud to endorse him to be the Democratic nominee for state Agriculture Commissioner," West Virginia AFL-CIO President Josh Sword said. "I have no doubt that as Commissioner of Agriculture, Bob Beach will apply the same principles that guided him in representing his constituents in the Senate and House of Delegates, and that's good for all West Virginia citizens."
Beach was appointed to the House in 1998 at the untimely passing of his father, and served five terms in the House before being elected Senator of the 13th District, which includes parts of Marion and Monongalia counties, in 2010. He continues to serve as senator of the 13th.
"I am honored to be endorsed by the West Virginia AFL-CIO's Committee on Political Education," Beach said. "Ensuring fair treatment and safe workplaces for West Virginians is critical to securing a successful future for our state, and I wholly support the work of our labor unions."
Sword noted the often-overlooked importance of the Department of Agriculture. "A healthy economy is dependent on a vibrant middle class and a diversity of industries, and both are linked to a strong agricultural community," Sword said. "Bob Beach knows that, and will work every day to strengthen that link."
Details
As West Virginians enjoy spending time with family and friends this Labor Day weekend, the West Virginia AFL-CIO invites residents to attend one of the many parades and events honoring the achievements of America's working people.
"This Labor Day weekend, as we celebrate the working families of our country, especially here in West Virginia, we are also thankful that unions continue to enjoy the support of the public," WV AFL-CIO President Josh Sword said. "According to a Gallup poll released this week, an ever-increasing percentage of Americans, 64%, approve of labor unions -- one of the highest union approval ratings Gallup has recorded over the past 50 years. And unions have polled even higher in West Virginia.
"Everyday working people know that unions force employers to offer higher wages, and unions have brought about workplace standards such as the 8-hour work day, paid vacation, healthcare benefits, overtime compensation, paid sick leave, pensions, maternity leave, and child labor laws."
WV AFL-CIO Secretary-Treasurer Andy Walters noted another new report shows a direct link between a decline in union membership and stagnant wages and rising inequality.
"Most people see through the false promises of economic prosperity the giant corporate interests are selling as they spend hundreds of millions of dollars to buy politicians willing to push laws that weaken unions and hurt working families," Walters said. "They see the very rich getting richer, CEO compensation has grown 940% since 1978, while the typical worker compensation has risen only 12%, and national union density has declined from about 25% to about 10% over the same period.
"We are grateful that people recognize that unions are fighting to change all that."
The following Labor Day celebrations will take place Sunday and Monday:
Marion County Labor Council, AFL-CIO
Annual Labor Day Celebration & Picnic
Sunday, September 1, 2019
12:00pm – 4:00pm
Hough Park, Mannington WV
Featured Speakers Include:
UMWA President Cecil Roberts and UMWA Secretary-Treasurer Levi Allen
Meet 91 year old "Rosie the Riveter" Anna Hess
Additional info contact Mark Dorsey:
(304) 777-7642 This email address is being protected from spambots. You need JavaScript enabled to view it.
************************************************************************
Workers United 863/ LIUNA
Annual Labor Day Celebration & Picnic
Sunday, September 1, 2019
11:00am – 6:00pm
Valley View Country Club – White Sulphur Springs, WV
Additional info contact Peter Bostic:
(304) 667-3863 / This email address is being protected from spambots. You need JavaScript enabled to view it.
************************************************************************
United Mine Workers of America
81ST Annual Labor Day Celebration & Picnic
Monday, September 2, 2019
11:00am – 4:30pm
John Slack Memorial Park, Racine WV
During this year's September 2nd celebration, you are invited to participate with
UMWA President Cecil Roberts and UMWA Secretary-Treasurer Levi Allen
in a one mile march to reflect on the largest labor uprising in United States history,
the August 25 – September 2, 1921 "Battle of Blair Mountain" led by the UMWA.
President Roberts, Sec.-Treasurer Allen and others will start their march in Marmet,
and they will march 11 miles to John Slack Memorial Park in Racine.
Those that wish to participate in the one mile march must be at
John Slack Memorial Park by 11:00am on September 2nd where you'll be transported
by bus to meet President Roberts, Sec.-Treasurer Allen and the others
for the one mile march back to the park.
Additional info contact Brian Lacy:
This email address is being protected from spambots. You need JavaScript enabled to view it. / (304) 541-3948
************************************************************************
Marshall-Wetzel-Tyler Labor Council, AFL-CIO
Paden City Labor Day Parade
Monday, September 2, 2019 / 1:00pm
(12:00 p.m. line up at the South End of Town)
"Free" 7:30pm Jimmy Fortune Concert
(A former member of the Statler Brothers)
Brought to you by the Unions of the
Marshall, Wetzel, Tyler Labor Council, AFL-CIO
and Gold Khourey & Turak - Attorneys at Law
Additional info contact BB Smith:
(304) 545-7781 / This email address is being protected from spambots. You need JavaScript enabled to view it.
************************************************************************
Kanawha Valley Labor Council, AFL-CIO
Will participate in the City of Marmet's Labor Day Parade
Monday, September 2, 2019 / 10:00am
(8:30am line up at Marmet Elementary)
Additional info contact WV AFL-CIO:
(304) 344-3557 / This email address is being protected from spambots. You need JavaScript enabled to view it.